Sharing Your Adventure
If you are anything like us, you've already fallen in love with the Scottish Highlands. Maybe you've holidayed here in the past or maybe you've only seen it in film and TV shows like Outlander, Harry Potter or Monarch of the Glen. Who could ever forget seeing those broad, mysterious lochs for the first time, or the dazzling purple heather on the rugged, endless hills? Like us you might have been winding your long, weary way up the A9 and suddenly found yourself greeted by those towering, snow-tipped mountains and like us you probably had no other words to say but WOW. And that's what we love about Scotland: it's the place that makes you go WOW.
A land of beautiful extremes
Our own journey started in 2015 when we holidayed in Glenelg, near Skye. It had been our very first time in Scotland. Both of us are keen photographers and we ended up driving all over the place to get in as many shots and different views as we could during our week-long stay. But a week is never enough when you're rooted to some B&B or guest house on one side of the country and you want to see what's going on at the other extreme. And that's the beauty of the Scottish Highlands: it's a land of extremes, with the West predominantly made up of lochs and countless, dreamy islands, the Central Highlands with its wildlife, rivers and mountains and the East with its castles, coasts and world famous single malts.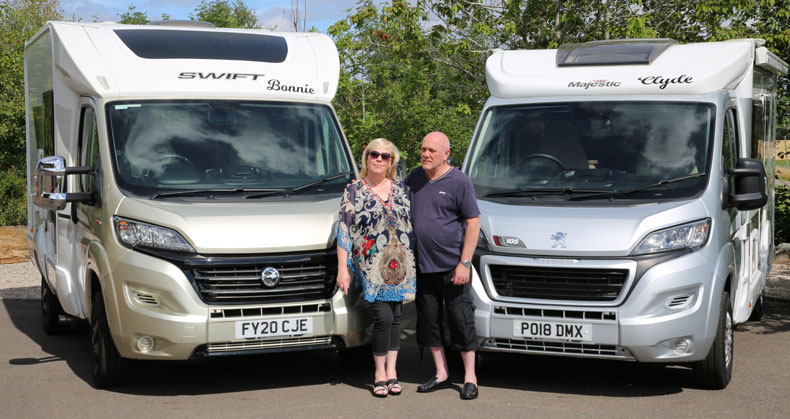 Tony and Gilly (Bonnie & Clyde)
So much to see
The summers are long and hot, with sunlight still around at midnight and the winters are cool and crisp. No two views are ever the same. We were literally spoiled for choice and we just wanted to make the most of it. But by the time we'd made our way out of the spectacular Mam Ratagan Pass from Glenelg, it was time to drive back. Regardless of whether we'd found some beautiful little bay in Northern Wester Ross, or some stunning mountain hideaway near Ben Nevis we'd be obliged to return to the car and make our way back to our digs.
We are passionate about Scotland and we would like to share that passion with you. Your journey is our journey.
The answer to our prayers was hiring a Motorhome. With a Motorhome we had the total freedom to roam. When we found a place we loved we could stay there. If we found a place we didn't love so much we could move on. There was nothing to rush back to and nothing to rush back for. Time was finally on our side. We were able to see as much or little as we liked. And the more we saw of Scotland, the more we knew we wanted to live here. So in January 2022 we made the 600 mile journey from Kent to Moray. Only this time for good.
We are passionate about Scotland and we would like to share that passion with you. Your journey is our journey. We have the experience and the knowledge to help you get the most out of your time. It's a chance to really get out there, see how stunning the place is and make memories that last a lifetime.